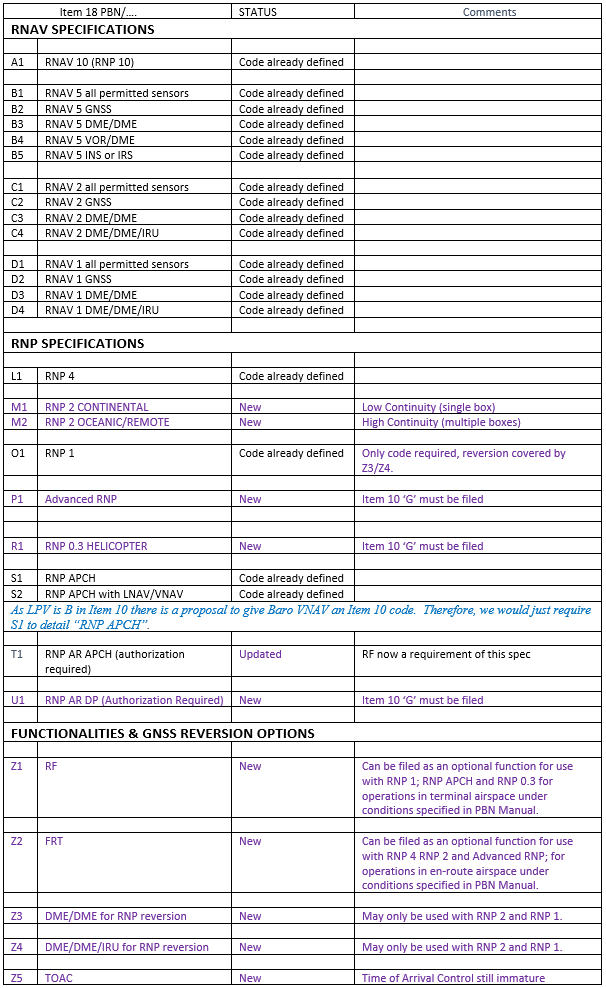 At the same time that Flight Plan 2012 was introduced, the PBN Manual was also updated introducing new Navigation Specifications and additional functionalities. Unfortunately, these were not captured and the ICAO ATMRPP and PBNSG are trying to resolve these issues prior to the full implementation of FF-ICE.
The three 'new' specifications introduced in 2013, RNP 2, RNP 0.3 for rotorcraft and A-RNP, do not have Item 18 codes published. In addition, the RF path terminator was made more accessible to support terminal operations outside the final approach segment by being permitted to be applied to any terminal RNP navigation specification; the use of RF with RNAV is not promoted or recognised by ICAO. To compliment the RF, the Fixed Radius Transition (FRT) was also added as a functionality which could be applied to any RNP specification utilised in en-route operations.
The PBNSG developed a list of the different functionalities and navigation specification options that could be applied in any PBN application. The table to the right is still under discussion and has not been adopted by ICAO; however, it is provided to allow the reader the understand what is lacking in the current flight plan to support future European operations. Without a flight plan update then we will be forced to wait until the future flight plan, FF-ICE, is fully implemented globally.
The draft proposal would see several Item 18 codes deleted either because they are inconsistent with existing PBN operations, or because the Navigation Specification has changed; for example, Advanced RNP. Furthermore, new codes proposed for addition to PANS ATM under Item 18 - PBN/… with the aim of aligning the codes to the PBN manual and, at the same time, an additional Navigation Specification (RNP AR DP) is being introduced into Edition 5 of the PBN manual (ICAO Doc 9613).